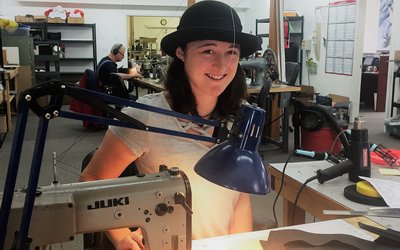 Master of Binding Tape
About Sierra Scherrer
Sierra wandered into our office one day with perfect timing, as a position had just opened up! Upon meeting Sierra, everyone in the office unanimously decided she was the "Most Interesting Woman in the World," and we had to hire her. Sierra has been sewing her entire life, makes costumes professionally, sews her own wardrobe, and that's just the beginning... Sierra also lives on a self sustaining organic farm. They grow and process their own food and meats. She also was on a TV series about building custom tiny homes (because of course she and her soon-to-be-husband do that too), and is currently working on perfecting her own shipping container home. Sierra also raises goats, and trains them to pack backpacking gear into the mountains so that her son, Daniel, can go on hiking trips without having to carry all the weight of the gear. How neat is that?!
Before coming to join us at VSE, Sierra held a number of jobs, across many industries - from ski instructing to working in a quilt shop. We feel this mix prepared her perfectly for the mix of projects we have thrown at her here! Currently, Sierra works for us on binding tape, which is a very difficult sewing position, and she mastered it instantly. She says her favorite part of this job is getting to make cool stuff - and we agree, this stuff is pretty cool!
When asked what she does for fun, Sierra responded "What don't I do for fun? How could I choose one thing, when I like all the things?" And as you probably gathered above, she really does do all the things. We aren't really sure when she sleeps, honestly.