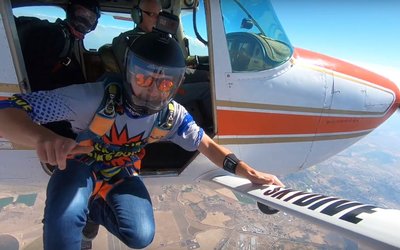 All Things Sales and Marketing
Ratings: C-License, Coach
Jumps: 300 Jump Wonder!
Email: vse AT velocityrigs DOT com
About Blake Johnson
Blake is the smiling face on the other side of the phone when you call Velocity Sports Equipment! When you need help designing a rig, need to place an order, or have questions that need answering, he is your guy! Blake received a Bachelors of Science in business from OSU in Bend, Oregon and it eventually landed him this job here at Velocity where he handle sales and marketing You may catch Blake on tour at your local DZ slinging rigs, processing orders and requests, manning the VSE Facebook and Instagram accounts (@vserigs & Velocity Sports Equipment), or maybe just jumping his face off!
In Blake's free time, he enjoys snowboarding, mountain biking, surfing, and of course... skydiving! Blake loves new friends, so definitely do not hesitate to befriend him when you see him under the Infinity tent, or on the road.