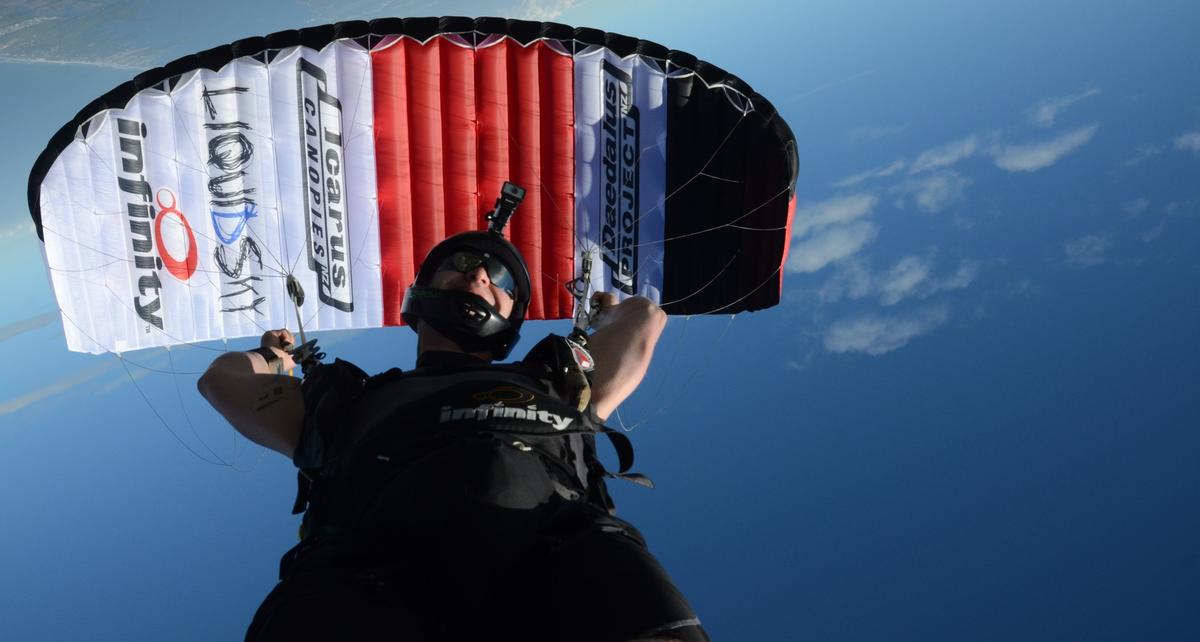 Type: Multi-Discipline
Iain Jensen
Review:
I liked Infinity from when I jumped at one of the sports more notorious DZ's, Lodi, for a couple hundred jumps in 2012. At the time there were a lot of high profile jumpers there, they all had Infinity's. They are streamlined, elegant, well made and have all the features you could want, with a distinctive look about them. I really love the VSE Belly Band, I think it's the best on the market. I love the customer service, Riley is highly professional and represents the best things about this sport. As much as any athlete, they know how important a custom rig is to you and will work to get the fit and look you want.
Bio:
3700ish jumps
Coach
TI
Wingsuit FJC Instructor for Scotty Burns' FlyteSkool
Videographer
Test Jumper
XRW Monkey
CRW Videographer
I use an Infinity I-21 Flying Petra 67's and PDR 126
The thing that interests me most in skydiving is anything I haven't seen before. My favorite feeling was sitting in the plane wondering whether or not I could land the parachute I had strapped to my back. Horrible advice to any student. My first paid job in skydiving was as a test jumper for PD with 650 jumps. To teach me a lesson they put me on 360+ sq ft military parachutes. Doing this, I realized I could spend nearly 20mins in the air off a hop and pop if I used thermals to stay floating around which was awesome. Deland is famous for (amongst other things) enormous 16,000'+ clouds in summer, it's almost a sport in itself just to get out, pull high and float around these fluffy mountains hanging in the sky.
At some point I realized doing this I had a great set up for flying with wingsuiters. Because I fly barefoot Carlos Briceno and I accidentally found a new way to grip the wingsuiter in surf docks. This enabled us to fly the first XRW barrel rolls. I have been sponsored for about 1 year so far, but it has lead to some incredible locations and experiences, working with people who I consider my heroes
Project Blacklist with Scott Lazarus, Lane Paquin, Will Kitto of Squirrel and a host of world class CRW fliers. Lane and I flew an XRW dock past a 20 stack of canopies which Will then flew through the centre of in a wingsuit, all on the same jump
Organized XRW at multiple events and boogies throughout the year
Set up a 30 person event in Texas, the first all XRW event of it's kind
Flew XRW down a mountain proximity line in Alaska with Lane Paquin
Part of 2017 Team One Call BASE XRW and Mountain flying event in Voss, Norway
Flew down a 3000' waterfall I had been dreaming about for a year
Flew tunnel style head down carving Wingsuit VS Canopy with Lane Paquin
Flew an upside down CRW XRW 2 Stack
First two man backfly XRW surf dock
Part of Project Blue Sky with the Phoenix Fly Need for Speed Team, a 23 Person XRW formation
Flew a 9 way Night XRW jump
Flew topskin spiral double surf docks with a 5 time world canopy piloting champion
Made One America News from an event China organized by Red Bull, flying a 270 swoop with a surf dock through hot air balloon gates at 900' over a 5000 person crowd landing into an urban area
I am not a competitive skydiver, but I love pushing the boundaries of the sport. I like flying parachutes and taking people skydiving.
Proudly sponsored by
Velocity Sports Equipment
Icarus Canopies by NZ Aerosports
Liquid Sky
KAVU, sent me a box of clothes once